UTMSPACE Dean's Award Ceremony
In conjunction with UTM 57th Convocation, UTMSPACE successfully held a Dean's Award Ceremony on October 21, 2016. A total of 47 Diploma and Bachelor's Degree students were honored for their overall highest achievements.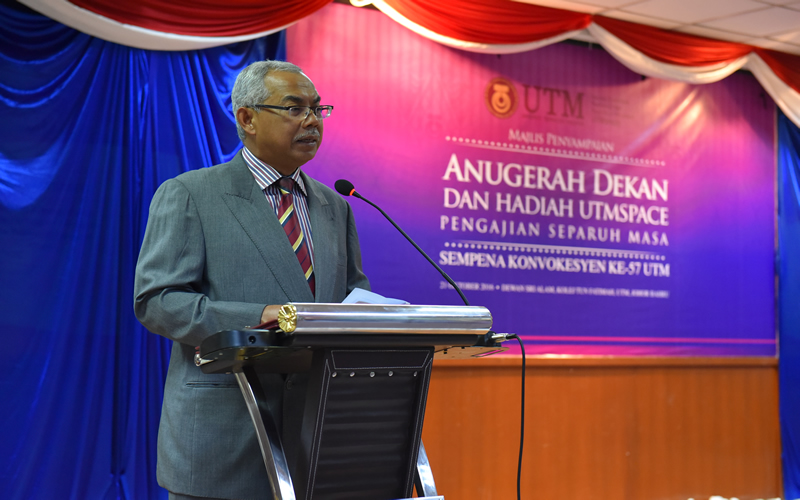 The event was graced by Prof. Ir. Dr.Mohd Azraai Bin Kassim, UTMSPACE Managing Director and Chief Executive Officer, accompanied by the dean of UTMSPACE, Prof. Dr. Mohd Fua'ad Bin Hj Rahmat, UTMSPACE management experts, External Programme Managers and family members of graduates.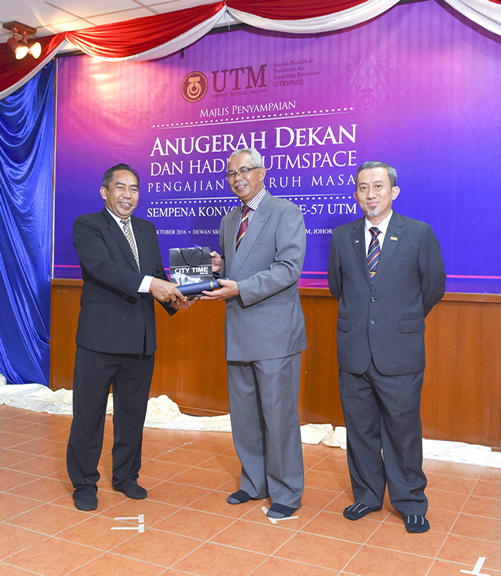 UTMSPACE Special Awards were given to graduates who had successfully finished their studies together with their sibling or spouse. A Bachelor of Science and Computer with Education (Mathematics) graduate, Mr. Kamaruddin Bin Mohamad, aged 53, received UTMSPACE Special Award for the Veteran category.
A Johorean school teacher – Cik Siti Hajar Binti Ahmad received managed to bag three different award categories all at once namely the Dean Award, Academic Prize and Special Award for Siblings. With a CGPA of 3.51, she was the one and only graduate who proudly received such awards.

UTMSPACE congratulates all the successful graduates.
Majlis Anugerah Dekan & Hadiah UTMSPACE.
Pada 21 Oktober 2016, telah berlangsungnya Majlis Anugerah Dekan & Hadiah UTMSPACE bersempena dengan Konvokesyen UTM ke-57 dengan jayanya. Dalam Majlis tersebut, seramai 47 orang graduan Diploma dan Sarjana Muda, telah diraikan di atas kejayaan mereka dengan mencapai PNGK tertinggi dalam keseluruhan keputusan yang diperolehi.
Majlis telah disempurnakan oleh Prof. Ir. Dr.Mohd Azraai Bin Kassim, Pengarah Urusan dan Ketua Pegawai Eksekutif UTMSPACE disertai oleh Dekan UTMSPACE Prof. Dr. Mohd Fua'ad Bin Hj. Rahmat, ahli pengurusan UTMSPACE, pengurus program luar dan ahli keluarga graduan yang diraikan.
Dalam majlis yang sama, UTMSPACE telah menyediakan anugerah Khas UTMSPACE kepada pasangan adik beradik dan pasangan suami isteri yang menamatkan pengajian mereka dengan cemerlang. Terdapat juga anugerah Khas Kategori Veteran yang dianugerahkan kepada Encik Kamaruddin Bin Mohamad yang berusia 53 dengan memperolehi Sarjana Muda Sains dan Komputer serta Pendidikan (Matematik).
Manakala Cik Siti Hajar Binti Ahmad yang berasal daripada Johor Bahru yang bertugas sebagai seorang guru telah berjaya menerima tiga anugerah iaitu Anugerah Dekan, Hadiah Akademik dan Anugerah Khas Kategori Adik Beradik UTMSPACE. Dengan memperolehi PNGK 3.51, beliau merupakan calon graduan tunggal yang menerima anugerah seperti itu.
UTMSPACE mengucapkan tahniah kepada yang telah berjaya.